Aggregate, visualize and analyze information of authentication result (DMARC report) and provide easy-to-understand web-based reports
"DMARC/25 Analyze" aggregates, visualizes and analyzes authentication result (DMARC report) of enormous XML format provided at DMARC which is a new email spoofing countermeasure, provides easy-to-understand report. When an email transmission is suspected of be spoofed, it displays a warning on the report and notifies the administrator.
By using this service, you can confirm that your domain is not being illegally used, quickly detect mail transmission that is suspected of being spoofed. Even if it is illegally used, we can precisely detect the existence and content of phishing e-mail, so that we can prevent damage by notifying customers and business partners who are likely to receive these mails.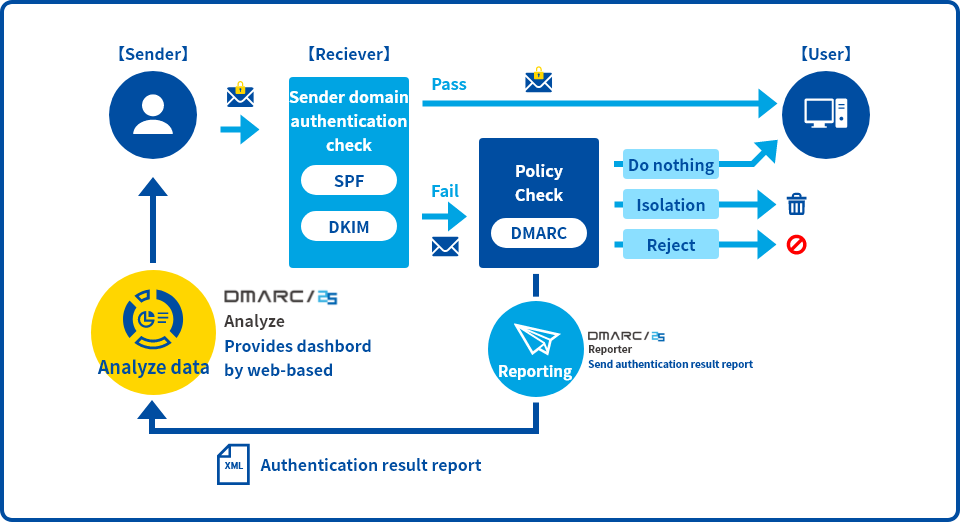 List of Main Functions
Two-step authentication
To prevent unauthorized use of your account, you can select one-time URL authentication in addition to password authentication. You can also notify the email address of sign-in with the corresponding account.
Dashboard function
It shows the results of authentication by domain. You can grasp the statistics of your environment within 2 weeks.
UI customization
In addition to dash board, you can add another results at any area.
Domain group detailed analysis
You can view a list of detailed analyzes by management domain or domain group.
Aggregate data of domain authentication
It shows the variable results of authentication, such as DMARC, DKIM, SPF and ARC with pie charts and line charts. That makes it easy to make sure the number of spams and help you to improve your environment.
Aggregate data of disposition
It shows the results of disposition. you can grasp how many messages spoofed were quarantined or rejected.
Aggregate report data
You can check each XML data deeply.
Aggregate the results by owned domain
You can narrow down the statistics to check them by owned domain. And also it make possible to find spoofed subdomains which are parked.
Aggregate the results by host
You can narrow down the statistics to check them by domain. And also it make possible to improve your hosts and know the outbreak of spam.
Simulate your DMARC enforcement effectiveness
You can simulate the disposition of DMARC enforcement in advance.
Aggregate and manage DKIM keys
It supports the DKIM key management and notify the proper rollover timely.
Aggregate data of SPF domain
You can aggregate the results of SPF authentication by envelope From domain and check the redelivery and relay status of emails.
It also visualizes improper SPF record settings.
Daily notification / alertion
It sends the notification or alertion daily when it comes to exceeding the threshold.