A commercial version of Dovecot, a mail store server that gains 50% of the world's share
It demonstrates high level of reliability and performance with latest stateless architecture, two tier configuration of Director - Store, plug-ins that enable to use of object storage, and continuous enhancement in corresponding to latest technology.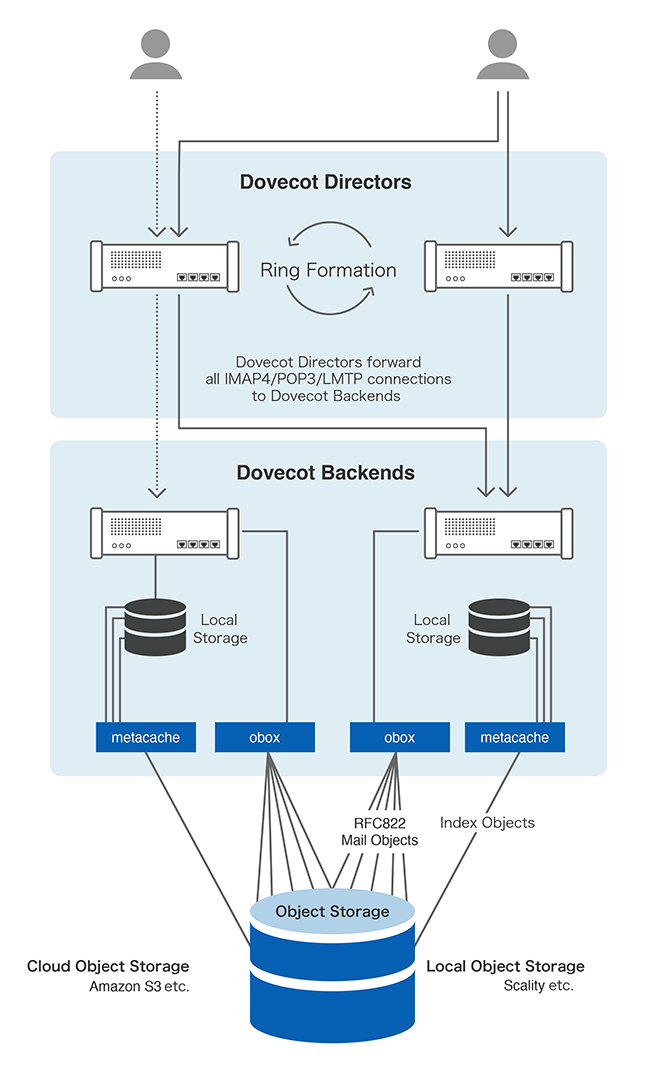 ---
Features
Latest architecture
with high reliability
Dovecote Pro is configured in the form of "load balancer -> proxy -> back end", and designed on the premise that both components and failure occur. Therefore, servers can be replaced or added at any time, with high reliability and availability.
High availability
generated by stateless configuration
The front end (Dovecot Director) optimizes access to the mailbox for each user by distributing it to a specific backend (Dovecot Store). This makes it easier to operate mailboxes on shared file systems, and enables flexible system configuration.
Enlarge Capacity
Object storage
Plug-in
The object storage plug-in makes it possible to use object storage such as Amazon S3 and Scality. By using local caching and prefetching, it also minimizes the influence of network delay which is a problem when using object storage. Scalability can be acquired while maintaining usability.
Continuing ambitious functional enhancement
Gmail is compatible with REST API
Support Apple Notification
Email - full-text searching
Account hijacking countermeasure
List of Functions
POP3,IMAP4
Various way of authentication
Countermeasure START_TLS、POP3/IMAP4 over SSL
LDAP link
Stateless configuration
Email
Distribution · Automatic response
Account hijacking countermeasure
External cloud storage link