Products and Services
Cloudmark Authority
Detects spam and malware with industry-leading levels of accuracy
Anti-spam/Anti-virus filter
Quickly Identify Malicious Senders and Content
Cloudmark is a carrier grade email security solution. It automatically reduces fraud and threat without interfering with the installed network. By uniquely combining innovative technology, investigation by experts and real-time threat data update, it quickly identifies malicious senders and contents, instantly responds to threats that can not be detected by sandbox alone and the latest threats such as phishing.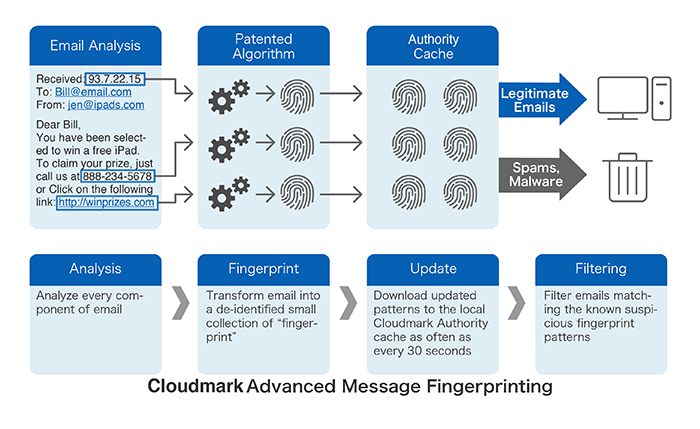 Cloudmark Advanced Message・Fingerprinting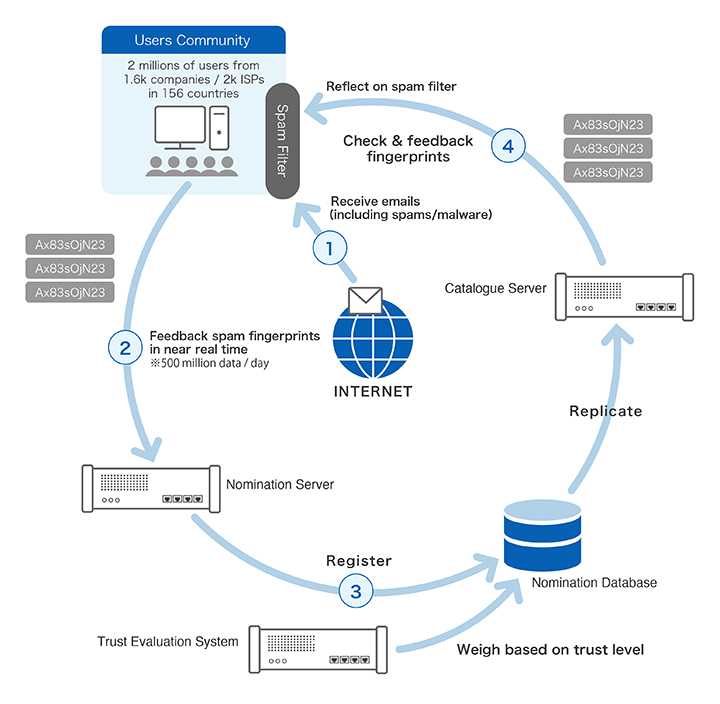 Service Features
Advanced Message・Fingerprinting
The patented advanced message・Fingerprinting algorithm allows you to quickly and automatically identify various threats.
Thousands of Threat Reports are Gathered from More than 150 Countries and Regions
Cloudmark's global threat network consists of fraud team from service provider, system administrators, honeypots, trusted users from all over the world. So that it can block the threat target within a few minutes from the occurrence of a new attack.
Solution for the Latest Virus and Malware
By using the Cloudmark network feedback system in real time, the explosive spreading of new viruses and malware that can no longer be detect by traditional anti-virus filters can be blocked. It is a smart solution to effectively protect users and employees from viruses and malware. It simultaneously provides process of performance to withstand malware outbreaks and high level of detection accuracy.
Outgoing Emailfiltering
As attackers' methods become more sophisticated, countermeasures is now more important. Cloudmark Authority implements the same filtering for outgoing e-mails. Cloudmark's unique content analysis technique scans and blocks spam, phishing, viruses, filters outgoing emails that are difficult to deal by traditional filters. By blocking outbound fraud, businesses and operators can save bandwidth and system resources, reduce the risk of communication denial to external RBL and foreign ISPs.
List of Functions
Function

Detect email spam
Detect email virus・malware
Outgoing email scan
Microupdate minimum time: 1 minute
Header tag
Contact us
For further questions, requests for quotes, or any other inquiries please contact us now by clicking on the contact us box.